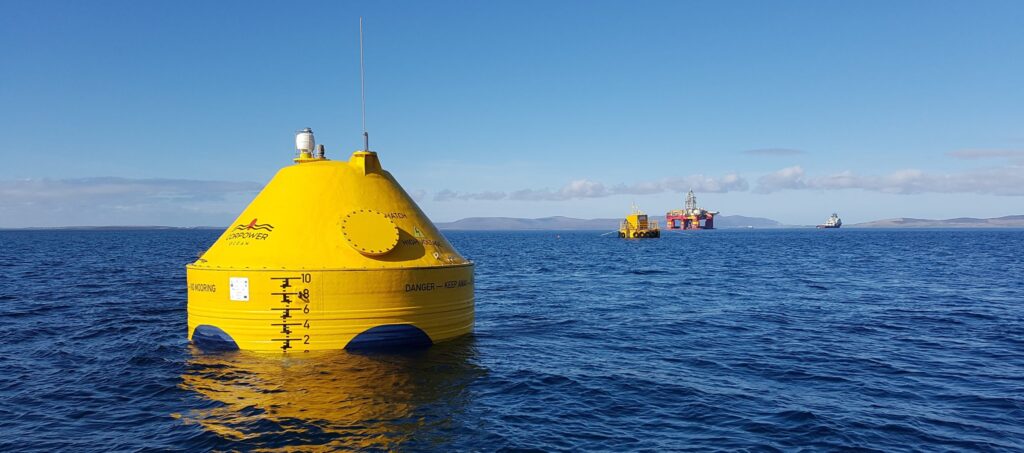 –
About CorPower Ocean
CorPower Ocean is a leading wave energy technology developer utilising forty years of ocean energy research to bring a new class of high efficiency Wave Energy Converters to market, enabling robust and cost-effective harvesting of electricity from ocean waves.
We are headquartered in Stockholm, Sweden with offices in Norway, Scotland and Portugal.
CorPower enjoys broad backing across Europe, with funders including EIT InnoEnergy, the European Commission, the Swedish Energy Agency, AICEP Global (Norte2020), Wave Energy Scotland, Midroc New Technology, ALMI Invest Greentech, SEB Greentech VC and additional private investors. End-users such as Iberdrola, EDP and Simply Blue Energy have been involved through all stages of development to ensure the product meets customer demands.
CorPower's goal is to successfully introduce certified and warrantied WEC products in the market by 2024, allowing our customers to build wave farms using conventional project financing. Such a bankable product, with technology risks sufficiently eliminated, will be achieved by completing the last two steps of our structured market introduction process that has been ongoing since 2012.
–
–
CORPOWER'S WAVE ENERGY CONCEPT
–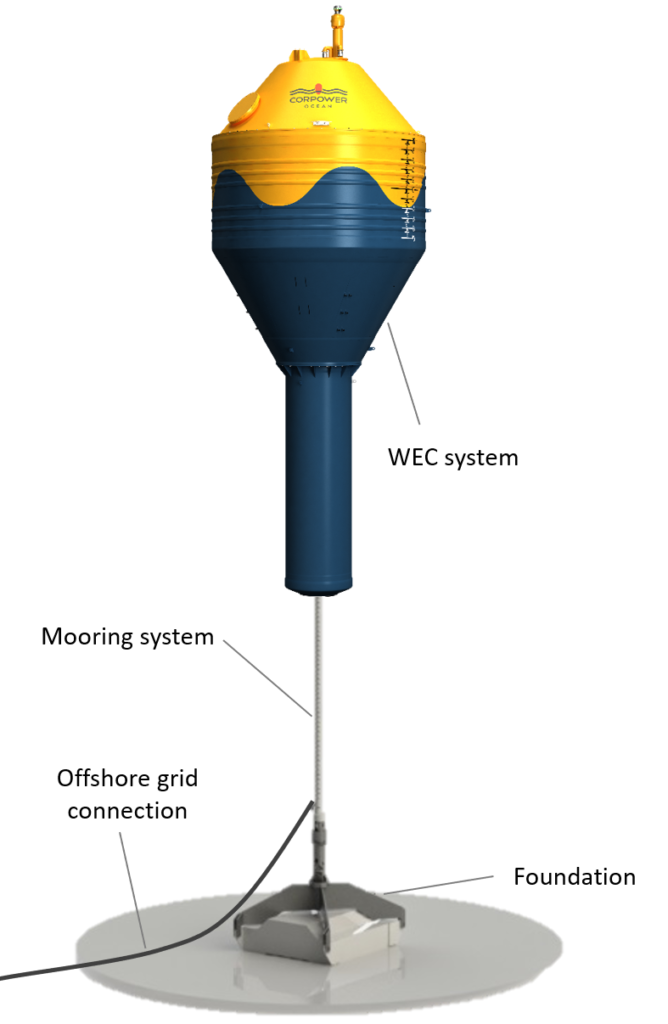 –
Our Wave Energy Converters are point absorber type, with a heaving buoy on the surface absorbing energy from ocean waves. The buoy is connected to the seabed using a tensioned mooring system. Novel phase control technology makes the compact devices oscillate in resonance with the incoming waves, strongly amplifying the motion and power capture. The system has improved survivability in storms, thanks to its inherent transparency to incoming wave energy in long storm waves.
The concept offers five times more energy per ton of device compared to previously known wave technologies. The high structural efficiency allows for a large amount of energy to be harvested using a relatively small and low-cost device, reducing the equipment (CAPEX) cost per MW capacity. The compact and lightweight WECs are also easy to install and maintain using low-cost vessels, bringing down operational (OPEX) costs. All together this provides competitive cost-of-energy.
Generators and power electronics are standard components known from the wind industry, enabling well known grid connection architecture. Our product concept is optimized for 10MW clusters, where the electricity is collected from an array of WECs into a collection hub. Each 10MW hub delivers grid quality electricity with standard 33/66kV electrical connection commonly used in offshore wind, with a single control and data acquisition interface over fibre and radio-link to the hub. Each WEC operate autonomously by a programmable logic controller located inside the device.
–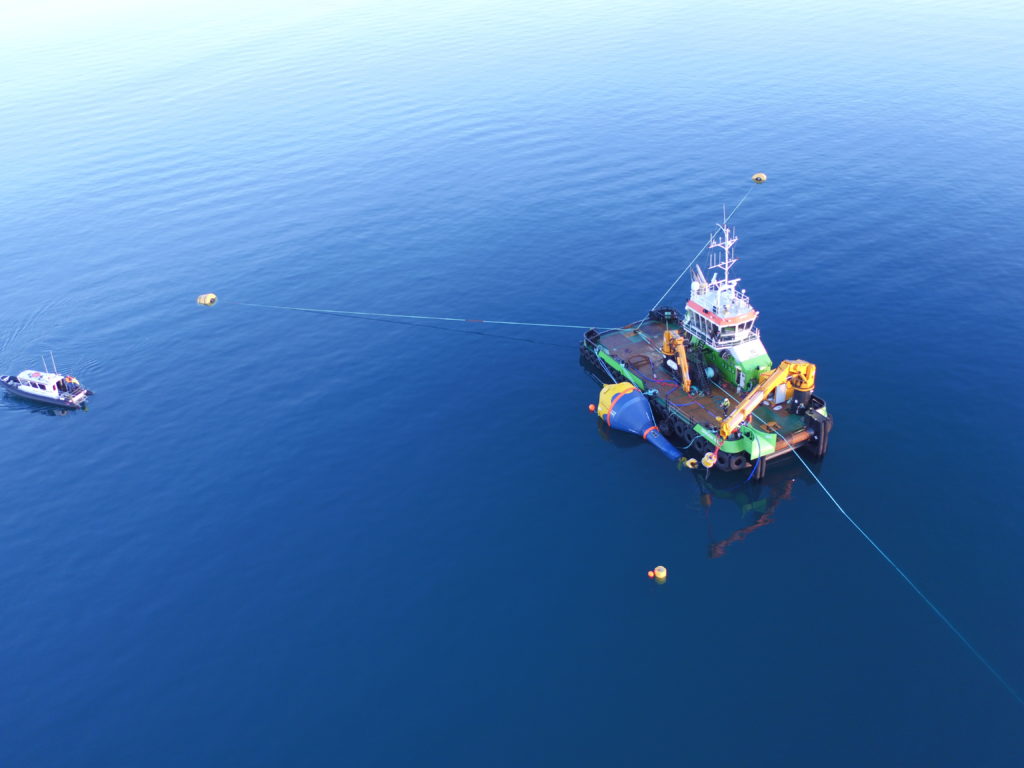 –
The wave farm concept is based on combining WEC clusters in arrays, connecting to a common grid export cable. The electrical architecture is chosen to allow export cables and substations to be shared with offshore wind, for projects aiming to take advantage of the complementary production profile between the wave and wind resource to deliver more continuous output from the array.
The array concept with many small units allows for mass production to drive down the cost per unit. An effective maintenance scheme is offered based on either replacing entire units or performing simple maintenance work offshore, improving farm uptime and providing overall reduction of O&M cost. The replacement scheme is enabled by the small physical size and limited cost per system, allowing simple handling and reasonable investment in spare units.
–
–
DESIGN PHILOSOPHY

–
Inspired by the pumping principle of the human heart, CorPower uses stored pressure to generate energy from waves in two directions. The human heart uses stored hydraulic pressure to provide force for the return stroke, thereby only requiring the muscles of the heart to pump in one direction. In a similar way, CorPower WEC uses a pre-tension system to pull the buoy downwards.
It mimics the energy storage aspect of the human heart whereby the upward force of a wave swell pushes the buoy upwards while the stored pressure provides the restoring force drives the buoy downwards. This results in an equal energy production in both directions, and a lightweight system that is naturally transparent (detuned) unless actively controlled to match the wave climate.
The CorPower WEC converts energy from waves into electricity through the rise and fall as well as the back and forth motion of waves. A composite buoy, interacting with this wave motion, drives a Power Take Off (drive train located inside the buoy) that converts the mechanical energy into electricity. The light composite buoy is connected to the seabed through a power conversion module and a tension leg mooring system. In a conventional point absorber, the buoy follows the motion of the waves. The CorPower WEC on the other hand uses control technology to better leverage the motion of the waves by giving the oscillating motion optimal timing with each wave.
–
–
WaveBoost

–
Led by CorPower Ocean, the WaveBoost project designed and developed an advanced power take off (PTO) system allowing wave energy converters (WECs) to operate safer and more reliably in harsh ocean conditions while increasing annual electricity production.
A summary of the achievements is available in the Waveboost project video.
–
–
Challenges Addressed:
Two key challenges associated with harnessing wave energy are addressed by WaveBoost:
Storm Survivability: Reliable and efficient damping of wave energy devices is critical for robust operation in adverse weather conditions. Innovative machine elements will be demonstrated that in all operational conditions, including operation with faults, can provide safety and control of the machine. This effort aims at eliminating the risk of end-stop impacts, which has been a significant cause for failure in previous wave devices and can be a driver of large and costly structures.
Fluctuating power input from ocean waves: Solutions to smoothen power variability by innovative load shedding will be demonstrated aiming to improve the overall efficiency and economics of direct drive trains.
WaveBoost objectives: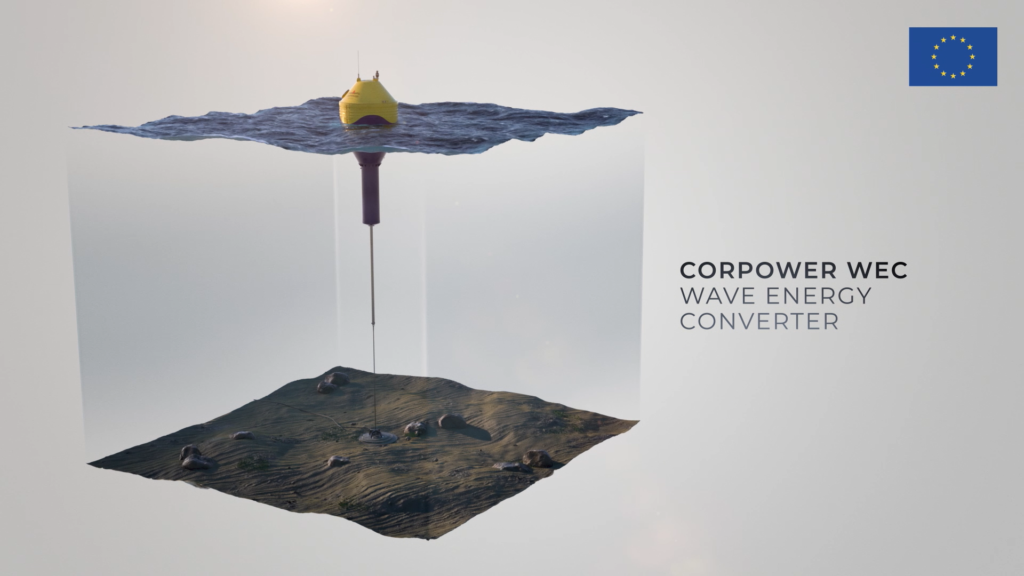 This project's main objective was to improve the reliability and performance of PTOs by developing and validating a revolutionary braking module with advanced control that can be coupled to different types of WECs. The WaveBoost module incorporates safety logic and energy redistribution functions beyond that of previous PTOs.
The specific project objectives and outcomes are:
Increase reliability and survivability of WECs;
Increase performance and reduce cost of WECs;
Improve grid integration of wave energy;
Increase system technology readiness;
Reduce the lifecycle environmental impact.
Results
End of project press release: WaveBoost project improves performance and reliability of wave energy
By implementing a stepped design process and performing an exhaustive testing program using advanced rigs on both critical components and the full integrated system, the technology has been validated in a cost effective low risk manner using proven and calibrated testing infrastructure.
Key outputs from the project include: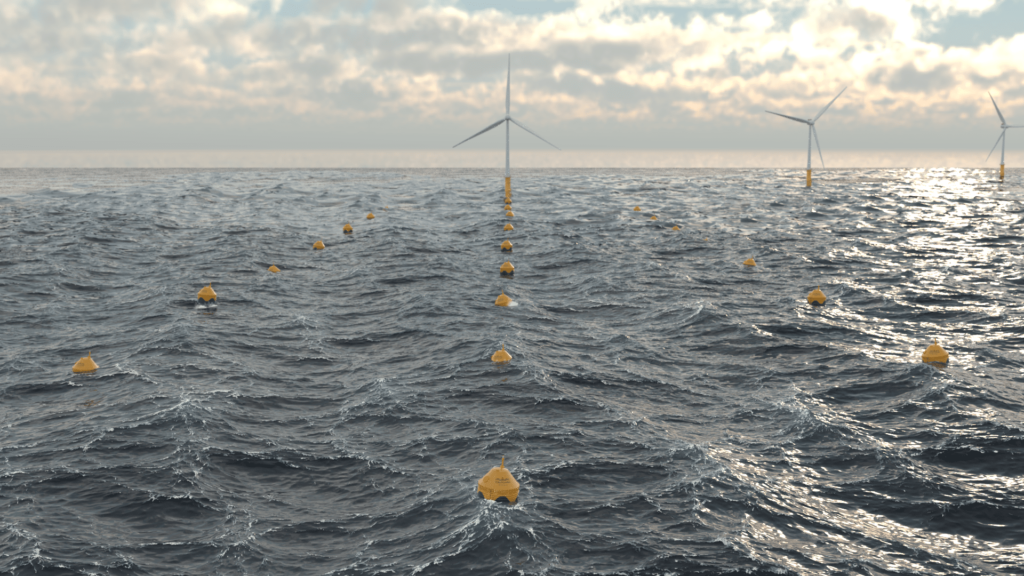 –
The design of the WaveBoost module is technology-neutral, to be applicable to a wide range of WECs representing potentially over 75% of the current market, hence its successful demonstration provides multiple opportunities for commercialization to impact the entire wave sector.
Design of the advanced PTO, including an advanced braking system for greater control of movement and a 98% reduction on overall flow losses.
Development of HIL-rig and test plans for the advanced PTO.
FMECA and VMEA analysis of advanced PTO informing design and testing processes.
Detailed modelling of advanced PTO within multiple wave energy applications.
Accelerated testing of seals within a bespoke, state-of-the art Seal Test Rig, resulting in a 70% improvement on seal friction.
Biofouling and corrosion testing in a real sea environment.
Estimated 21.3% to 26.9% improvement in Annual Electricity Production (AEP), based on a target power matrix.
LCOE analysis undertaken of three array sizes; 50MW, 300MW and 1GW. Estimated 18.0% to 29.3% reduction in LCOE.
Lifecycle analysis undertaken of a 50MW array deployed in Scotland, resulting in a carbon intensity of 31.4gCO2e/kWh, comparable with other renewable technologies and over 10 times less than conventional gas turbines.
Socioeconomic analysis undertaken of a 50MW array deployed in Scotland, resulting in €166M GVA and 2088 job years supported.
The project outcomes and results are disseminated for the benefit of the ocean energy industry through published reports. These reports can be downloaded on the CORDIS website and by clicking here: WaveBoost Results
Lasting impact:
The learnings from the WaveBoost project have been carried forward as CorPower Ocean move towards the manufacturing, dry testing and deployment of their next full scale C4 WEC.
WaveBoost partners
The WaveBoost project brings together a consortium of sector leaders from Sweden, Portugal and the UK:
–
CorPower Ocean website