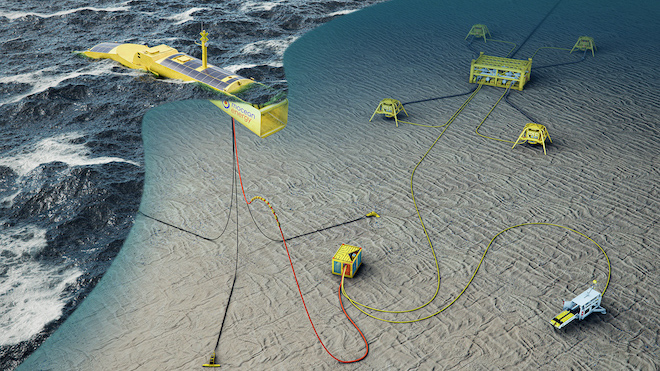 source : https://www.mocean.energy/
–
Renewables for Subsea Power
The Scottish company Mocean Energy has secured €875,000 to accelerate the commercial roll-out of its wave energy technology and drive its adoption in offshore oil and gas sector.
Mocean Energy has raised a little over €875,000 equity funding from existing funders, led by angel syndicate Equity Gap, together with Old College Capital, the University of Edinburgh's in-house venture investment fund, and Scottish Enterprise.
The new funds will enable the company to advance the design of its next-generation Blue Star wave machine and drive its adoption in subsea oil and gas, Mocean Energy said.
Last year, the company successfully trialed its Blue X prototype at sea at the European Wave Energy Centre (EMEC) in Orkney, and is currently collaborating with partners to advance a demonstrator project, called 'Renewables for Subsea Power'.
–

source : https://www.mocean.energy/
–
The project is expected to show how Mocean Energy's technology can be coupled with underwater energy storage to provide reliable low carbon power to subsea equipment and autonomous underwater vehicles. According to Mocean Energy, the plans are in place to test the system at sea later in 2022.
Commenting on the new funds, Mocean Energy's managing director Cameron McNatt said: "The equity funding is a tremendous boost and will allow us to accelerate our product roll out.
"This year we'll start fabricating Blue Star 10 – a 10kW machine based around the Blue X design which will begin commercial trails in 2023.
"In parallel we are developing our next-generation Blue Star 20, a 20kW machine based on a new optimized geometry, which will include solar panels and a novel direct drive generator, with trials and rollout targeted for 2024-25.
"Both products are aimed at opportunities in the oil and gas energy transition, defense, offshore wind, and ocean science markets where they can be used to provide power to remote subsea equipment, robotics, and monitoring systems."
Mocean Energy has seen increasing interest from the oil and gas sector and has opened a dedicated office in Aberdeen to meet customer demand, while the firm's staff has grown to 17.
The new funds follow a €1.03 million seed raise which was completed in 2020, comprising €735,000 equity funding plus €300,000 grant from Innovate UK, the UK Government's innovation agency.
–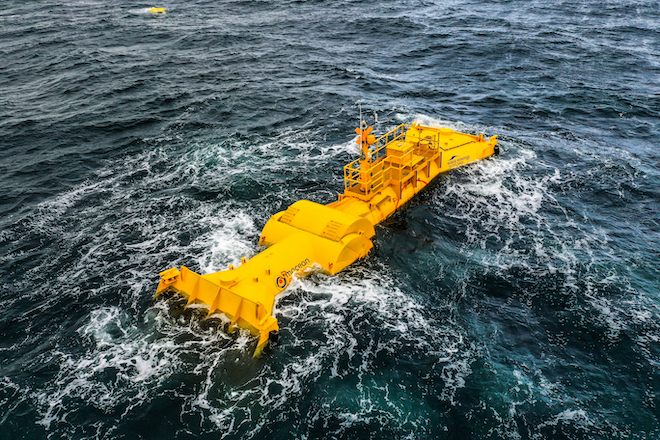 source : https://www.mocean.energy/
–
Mocean Energy began its engagement with the North Sea oil and gas sector in 2019 after being selected for the TechX Accelerator Program in Aberdeen, organized by the NZTC (formerly Oil and Gas Technology Centre). This led to the introduction of Chrysaor, an independent E&P, since its merger with Premier Oil to form Harbor Energy. "Chrysaor's management saw value in using renewable energy to power backstops and remote subsea equipment rather than covert subsea devices, which are typically capital-intensive, slow to deploy, and permanently installed," MacNatt explained.
"In parallel, we have identified the benefits that subsea batteries can provide to our system, which has led to communications with the EC-OG in Aberdeen. We have also seen that wave energy combined with battery storage could be an ideal solution for residential subsea robots such as AUVs, offering the potential for significant cost and CO2 emissions reductions from IRM under the sea.This led us to Modus, who has been doing some work on residential AUVs.And the final piece of the jigsaw was Baker Hughes, who joined the project through their relationship current with EC-OG." Baker Hughes says it sees the potential for Blue X to power and connect to fully electric subsea production systems in the future.
The Renewables for Subsea Power Project (RSP) combines EC-OG's Blue X wave transducer, subsea Halo battery system and Modus' Hybrid Autonomous Underwater Vehicle (HAUV). Blue X and Halo will direct power to subsea controllers supplied by Baker Hughes and HAUV, and the setup will also enable remote "over the horizon" (direct line of sight) operation of subsea equipment.
According to McNatt, while each individual technology developer collectively constitutes a piece of the puzzle, what operators such as Harbor Energy are looking for are complete, integrated, field-proven solutions. For developers, the project gives each company the opportunity to demonstrate that their technology is low-risk and thus can raise the level of technological readiness. Baker Hughes is a natural fit: no matter which subsea controllers will be remotely operated and controlled via the RSP system, the company contributes system integration expertise. Ultimately, it is likely that it will be Tier 1 engineering groups that provide integrated systems to offshore clients.
source :https://www.offshore-energy.biz/mocean-energy-lands-funds-to-build-wave-energy-device-for-oil-and-gas-sector/
source : https://www.offshore-mag.com/renewable-energy/article/14223853/wave-energy-converter-offers-lowercost-subsea-power-option
–
–
Offshore Oil and Gas in Mauritania
–
–
Mauritania's oil reserves are estimated at 20 million barrels of oil, which is not a large number in the global oil market, but for gas, a confirmed gas reserve of Mauritania has been discovered, estimated at 50 trillion cubic feet.
These major discoveries will put Mauritania in the ranks of gas-producing countries
–
–
tremendous discoveries have made Mauritania a destination for western countries.
the story began in the year 2012 with be created by the american company Kosmos energy , that discoverd the "Turtle" field and before that the "Bir Allah" field , which is the largest field in the world discovered in the year 2017 .
Field will a qualitative leap in the Mauritanian economy . And make it a global competitor, and an important pole in the gas indudtry in the region .
What is the size of the wealth that Mauritania lands hoard ?
Mauritania is located at stategic crossroads in the north Africans, and at the heart of many Atlantic shipping lanes .
the contery its distinguished position with its Atlantic coast, which includes more than 700km . In addition to its proximity to Europe. As well as the direct acces to important reginal markets, such as Algeria, Mali, Morocco and Senegal.
This location featured which mauritania enjoys will icnrease its chances of developing the economy especially after the discovery of gas.
On the Mauritanian-Senegalese maritime borders, there is floating huge fields of natural gas, shared by both Mauritania and Senegal under a joint exploitation agreement, signed in 2020.
–
–
This huge wealth has attracted the giants of energy companies in the world.
"Hmeimim" field is one of the most prominent joint fields, whose reserves are estimated at more than 450 billion cubic meter of gas,
which is expected to produce annually about 2.5 million tons of liquefied gas.
The tow petroleum companies BP and kosmos Energy are responsible for this project. which will return to them with a return of 150 milllion USD annually .
As for Mauritania that it will obtain financial revenues of uo to 19 billion USD over the next 30 years.
Sixty kilometers offshore from Nouakchott, the "Panda" field, its potentials are estimated of 1.2 trillion cubic feet. On the side, there is the "Bir Allah" field facilities, its reserves amount to 8 trillion cubic feet of gas, wich represent most than 10% of African reserves .
–
–
Mauritania with these huge fields ranked third African after Algeria and Nigeria, and the port of Nouakchott, is one of that facilities to achieve the actual benefit. After transportation, distribution and storage equipment and pipes that were used in the projects. wich provided revenue to the port must take estimated at about 25 milliom USD .
For the benefits that will improve the structure of Mauritania economy and the steps that take , Mauritania is seeking to produce cheap and clean energy from gas, and the use of this energy to Seawater desalination, and creation of coastal cities , in addition to the importation of cars that run on gassed in order to reduce the cost of transportation and thus lower prices.
–
–
Mocean Energy has identified a range of potential applications for offshore oil and gas:
Undersea and undersea electrical faults can result in reduced production, resulting in lost revenue. Blue X can be quickly deployed as a online backup generator.
New subsea ties or tieback expansions: The system can provide low-cost, reliable and low-environment impact force, rather than long, expensive, capital-intensive and permanent umbilical operation.
A low cost and reliable solution for retrofits of subsea equipment such as subsea sensors and pumps in existing fields where there is no readily available power source.
Undersea IRM. ROVs and residential AUVs allow for subsea inspection, repair and maintenance without the need for a host vessel. However, these technologies are limited by their battery capacity, while the Blue X might theoretically allow for undersea IRM campaigns of unlimited duration.
The same advantage applies to offshore wind, for time-consuming inspections of offshore facilities such as cables and foundations, and overwater infrastructure, such as turbine blades using drones.
Maritime Awareness – Monitoring activity in the local marine environment. The system can be equipped with cameras and radar to monitor incursions by fishing vessels or other vessels in the exclusive areas around offshore installations.